---
---
This is Happening – GofundMe
I have started a GoFundMe page for "This is Happening". It is the very early stages of production, but my creative team which consists of Creative Director/Choreographer Chris Wynn, and Community Outreach Coordinator Yasmine Mobley, are very excited to begin the process for our second event! Help us reach our goal and bring to life one of the best events in Charleston.
Love & Peace,
Rolf
---
Art Jokes Life: A ROLF Podcast

I am fascinated by art, comedy, and life in general. After encouragement from friends, I have decided to take the plunge and enter the podcasting ring with "Art Jokes Life: A ROLF Podcast". Enjoy the latest episode below.
---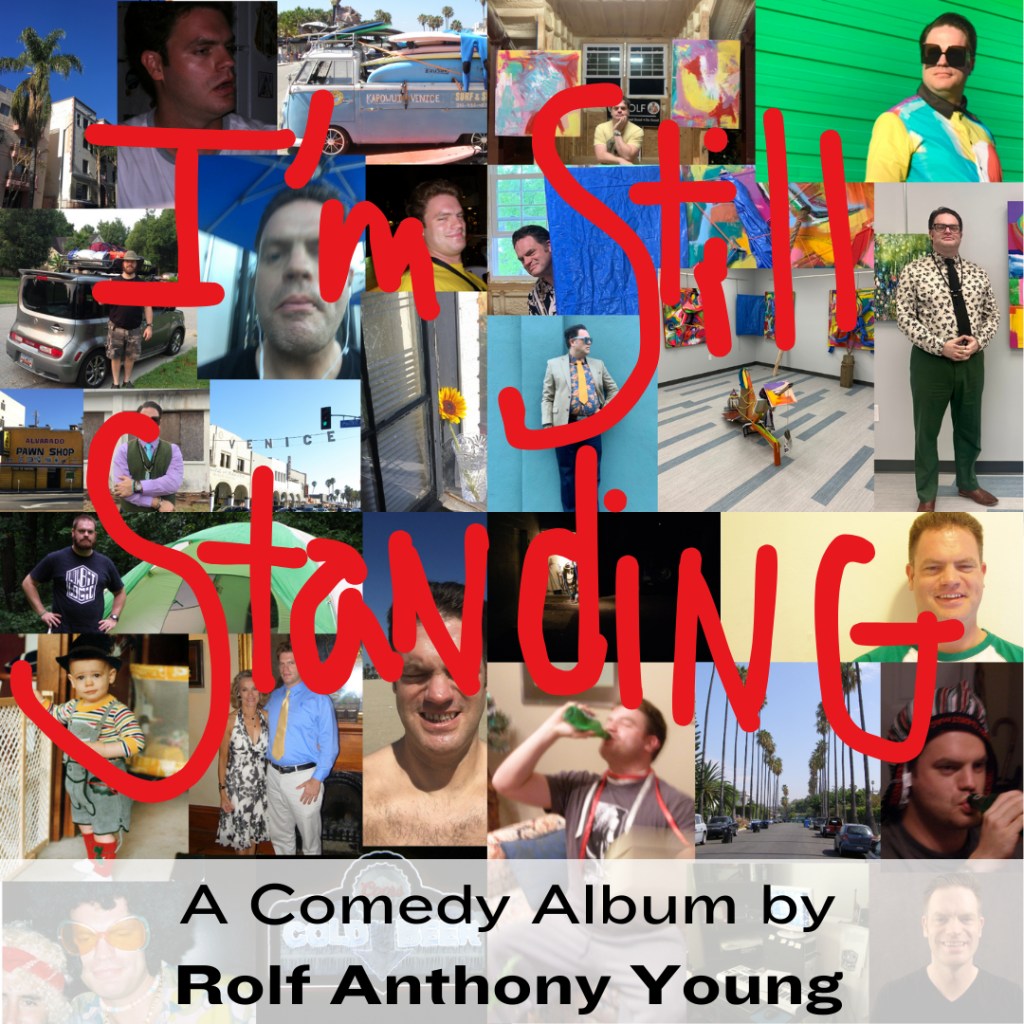 On October 1st, 2023, Rolf Anthony Young will release his first comedy album titled "I'm Still Standing". A comedy album that includes comedy skits based upon real events in Rolf's life, as well as a collection of Rolf's best jokes. Below is a quote from Rolf about the album:
"I'm Still Standing", represents all the bullshit I have been through, that still makes me laugh to this day. As I tell audiences, I have been making myself laugh for years, so I must be a comedy expert. In the hard times, and dark times, I have been able to laugh. My grandmother taught me that. She was the funniest person I ever knew. "I'm Still Standing", is dedicated to her."
– Rolf Anthony Young
Please note that this album will NOT be released digitally. Only the physical copy of the comedy album will be for sale. Contact Rolf to get a copy!
Listen to a few jokes from "I'm Still Standing":
$5 Frozen Pizza
Dr. Shrink (skit)
Political Prayer (skit)
Tarp Days
The ROLF Booth Calendar Y'all!!
Come Hang…
---
Introducing…ROLF Comedy!

Watch the latest episode of the ROLF Comedy Show below. Enjoy!
Watch more ROLF Comedy Videos ————->>>>>>>>>> HERE
---
This is Happening
Archive Pics…….enjoy!
Wednesday, September 6, 2023, is one of my greatest days of my life! I truly mean that. Having planted the seed for this event 8 weeks prior, then seeing everyone come together for a unique and powerful goal is mind blowing. Enjoy these images of our event….and see y'all next year!
Love & Peace
Rolf
---
SITE HOSTED BY: Hostineer
SITE DESIGNED BY: Rolf Anthony Young