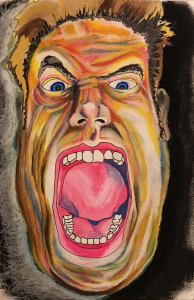 LoW BiT LoGiC
* ARTIST *
Lives in Los Angeles, California
Los Angeles Art Association, Member – 2018
Virginia Commonwealth University, BFA – 2001.
Born in Vienna, Austria, Rolf Anthony Young grew up in South Carolina and Virginia. Rolf earned a BFA in Sculpture & Extended Media from Virginia Commonwealth University; 2001 graduate. Rolf is a artist living in Los Angeles, California, and working under the name LoW BiT LoGiC. In 2013, Rolf created the moniker LoW BiT LoGiC, as a way to express all his creative energy, to a larger audience. Rolf believes any material can submit to the desire of the artist, if the artist is willing to allow the unexpected to occur.
My Thoughts on Art:
Define your Art by the commitment of daily studio practice.
Art is emotional, yet allow structure to remain.
Remove expectations from your Art, to allow your work to stand on it's own.
Reduction is an Art of resisting complexity.
Share your Art with the community you live in.
Art is a vocation for most and a profession for a very lucky few.
It is easy to get lost in making, but remember the motives that provoked you to create.
A critique by peers, helps artists remove the clutter that might be obstructing their objectives.

November 2018
SITE HOSTED BY: 

Hostineer


SITE DESIGNED BY: LoW BiT LoGiC