---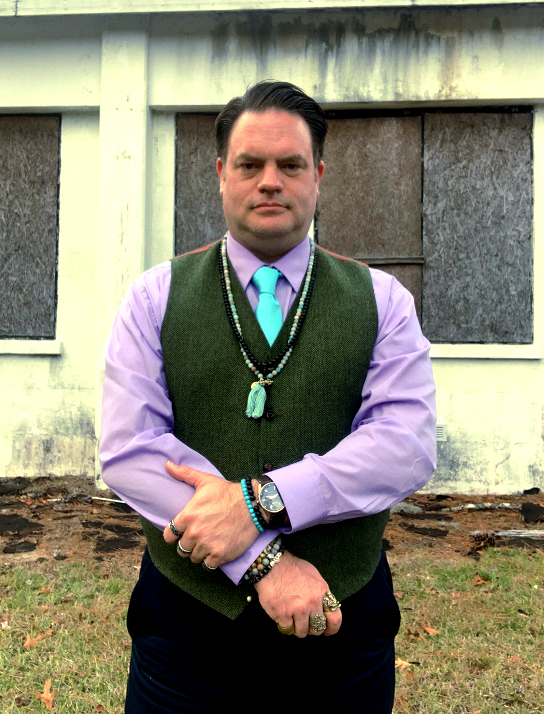 Rolf Anthony Young – Artist
---
Artist lives & works in Charleston, South Carolina
---
A Bit About the Artist
Rolf Anthony Young is a mixed media artist living on James Island, in Charleston, South Carolina. Rolf is an artist that uses different mediums to express all his creative energy that finds outlets in collage, digital media, and paintings. Rolf believes in not limiting his artistic practice and searches for answers within his artwork through experimentation with equipment, techniques, and materials. For Rolf, making an artwork is a devotion of the mind, spirit, and soul of the artist. Born in Vienna, Austria, as a young child Rolf lived in London, New York City, Connecticut, and South Carolina. Rolf spent his formative years in Reston, Virginia where he attended South Lakes High School. After graduating from South Lakes, Rolf studied fine arts at Virginia Commonwealth University and earned a BFA in Sculpture & Extended Media; a 2001 graduate. After hiking 150 miles of the Appalachian Trial, Rolf moved to Charleston, South Carolina in 2002. Rolf used his art skills to build a professional career as a graphic designer and drafter. Rolf launched his website LoW BiT LoGiC in 2014 with a focus on showcasing his electronic music and videos. It was not until 2016, while living in Los Angeles, California that his passion for art making was reborn. After four years in LA, Rolf moved back to Charleston in 2019, and currently spends his time making art in his mom's garage. Rolf has exhibited in Northern and Southern California; Raleigh, North Carolina and the Lowcountry of South Carolina. His artwork is featured in publications such as APERO, Artistonish, Circle Quarterly Art Review Magazine and Xanadu Gallery's Art Catalogue. Rolf is the recipient of an Emerging Artist Grant from the South Carolina Arts Commission, for the year 2023, and in 2019, Rolf was awarded an artist scholarship from the Los Angeles Art Association. During December of 2018, Rolf was artist-in-residence at Space 2531 in Silver Lake, California.
Accolades & Awards
Emerging Artist Grant, South Carolina Arts Commission: 2023
Artist Scholarship, Los Angeles Art Association: 2019
Education
Engineering Design Course Work, Trident Technical Collage: 2013
BFA, Virginia Commonwealth University: 2001
Professional Organizations
Member, Los Angeles Art Association: 2018-19
Publications
Xanadu Gallery's Art Catalogue, September / October: 2022
Circle Quarterly Art Review, Issue 8, Summer
Artistonish, Contemporary Art Magazine, May Issue
Artistonish, Contemporary Art Magazine, December Issue: 2021
APERO, Fine Art Publication, Honorable Mention, July Issue, Open Theme
APERO, Fine Art Publication, August Issue, "Grow": 2018
Public Speaking
Conversations with the Artists, Gallery 825, Los Angeles, CA: 2019
Artist Talk, Antarctica Starts Here, Space 2531, Los Angeles, CA
Conversations with the Artists, Gallery 825, Los Angeles, CA: 2018
Artists Talks, LoW BiT LoGiC Mixed Media, Art Landing Gallery & Gifts, Inglewood, CA
Residencies
December Artist Residency at the Balinesian Hut, Space 2531, Silver Lake, California: 2018
Teaching
CADD Instructor, Los Angeles ORT College, Los Angeles, CA: 2016-18
Computer Drafting Instructor, ITT Technical Institute, North Charleston, SC and Los Angeles, CA: 2014-16
---
My Thoughts on Art

Define your Art by the commitment of daily studio practice.
Art is emotional, yet allow structure to remain.
Remove expectations from your Art, to allow your work to stand on it's own.
Reduction is an Art of resisting complexity.
Share your Art with the community you live in.
Art is a vocation for most and a profession for a very lucky few.
It is easy to get lost in making, but remember the motives that provoked you to create.
A critique by peers, helps artists remove the clutter that might be obstructing their objectives.
Instead of competing for space, create your own space.
Don't forget to sketch your ideas out to build a solid foundation.
Drawing is fundamental.
Invest in the best quality art supplies you can afford.
Find your tribe.
——
November 2022
SITE HOSTED BY: Hostineer
SITE DESIGNED BY: Rolf Anthony Young