---
Eddie
ARTIST STATEMENT: EDDIE
My sculpture / object I titled "Eddie" has been through a lot. For the entire Summer of 2023, I thought about Eddie and how to finish him. At one point he had his own pedestal, that fell over again and again. So that wasn't the answer. So when I started to focused on Eddie and what makes him special, I then was able to move forward with completing Eddie. I have fallen in love with this piece and love that it will be on display at Public Works Art Center in Summerville, South Carolina until November 11th. Do try to come by and see Eddie as well as all the other art on display during the annual "Spark" exhibition. And I believe now, that my objects I make will take on human names to allow them to feel more accepted by society. I find this practice of naming my work after people a great way to branch into familiar territory of the human psyche.
Rolf
September 2023
~~~
We All Have a Cross to Bear
ARTIST STATEMENT: WE ALL HAVE A CROSS TO BEAR
This work is one part triumph, one part celebration, and the final part is not giving the fu#k up! Seriously, this work has been through so much with me over the Summer of 2023, that having arrived at a completed status is a wonderful feeling. Yes, this is a religious piece and offers my own interpretation of Jesus carrying the cross. What I love most about this work, is how I was able to execute a foundation for the work. Once I discovered the magic of footers, the rest of the work "We All have a Cross to Bear" flowed to a finishing point I am so proud of. What is a wonderful fact about this object, is that no glue, screws, or nails were used in the making of this work. The work completely collapses and can be store as well as travel to the next location in my small car. Enjoy!
Rolf
September 2023
~~~
Eleanor
ARTIST STATEMENT: ELEANOR
I am not often motivated to finish an artwork for a friend's birthday, but for "Eleanor", it was meant to be. Before I arrived at the object I call Eleanor, she was another thing that I knew I had to finish. So when my friend Melissa, said her birthday was coming up, I knew I had a deadline to finish Eleanor. And the naming of this object, my third since Los Angeles, is unlike how I title my other works. Maybe that is a sign I am evolving as an artist, and human. And that is something that helped me finish Eleanor, I had to let go of the act of painting something, to "finish" something. When I Googled the meaning behind "Eleanor", the words "substance" and "style" struck me. Isn't this what we are all seeking? Substance and Style? God Bless.
Rolf
June 2023
~~~
It is important that I keep the focus on the present
ARTIST STATEMENT: IT IS IMPORTANT THAT I KEEP THE FOCUS ON THE PRESENT
Sometimes creative energy takes you into the great unknown. I had not created an "object", my title for sculptures that I make, since 2019. Two major milestones in my artistic career collided at the same time. I was accepted into the Piccolo GAP Show and I was beginning my artist residency at South Porch in Summerville, South Carolina. I had promise Marie Carladous, founder of the GAP Gallery in Charleston, SC, to deliver two paintings of mine for the Piccolo GAP Show. But I knew I could do more. And I didn't want to begin a new effort with a 2D painting. It was time to create an object! Within 10 days, I created this object that you see documented above. About 85% of the work is found objects. Something I am very passionate about since my days as an art student at VCU. I also wanted to create and object, similar to the previous works, that was free-standing, and didn't need a pedestal. I will be making more objects in the future as I now have the tools to really put the effort into this passion of mine. Enjoy!
Rolf
May 2023
~~~
endless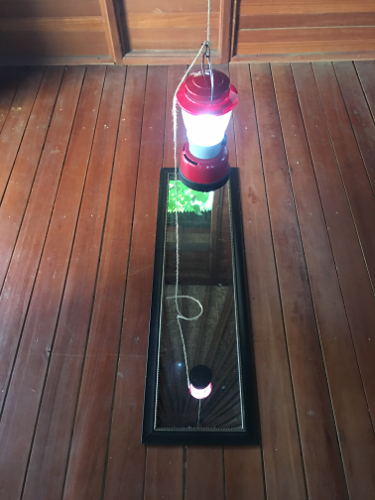 endless, Coleman Lantern, Mirror, and Jute Twine, 2019
~~~
unfixed objects in 3 transitions
ARTIST STATEMENT: UNFIXED OBJECTS IN 3 TRANSITIONS
I love to know how things are put together and the relationship each part shares with the other. I push my curiosity further by exploring the idea of reconstructing broken parts back together. "unfixed objects in 3 transitions" is my interpretation of this curiosity, as well as emphasizing the idea of removing static energy from traditional art objects. This static energy is evident when observing traditional art objects in a "fixed" position. Objects off the wall, are very similar to their 2D siblings, and adhere to the stationary lifestyle. I wish to alter this perception and allow the viewer to understand my art objects in the 3 transitions I present here; placement, layout, and build. The build represented in my work is the final transition, which is a spontaneous event; objects are left unfixed, and the build is unique to the location, never repeated. The entire work is meant to be witnessed for short durations, and then returned to its original form (see transition 1 – placement). I wish to present the totality of the art object. The placement and layout are as important to the viewer's experience as the build, when seeing an art object of mine.
Rolf
August 2018
---
SITE HOSTED BY: Hostineer
SITE DESIGNED BY: Rolf Anthony Young